Simple snap into place GPS Live Tracker. Using your vehicles ODB-II port you can power this unique GPS Tracker without worrying about recharging or replacing any batteries. The iTrail Snap is easy to install and can provide piece of mind when you need tracking.
Tracking device for the best coverage in the North America
4G Network
Snap it into the OBD-II port for uninterrupted power
Easy to install (The OBD-II port is located under the driver's side dash on most vehicles. Consult your vehicle owner's manual.)
No batteries needed
Move the iTrail Snap from car to car as needed
Real time tracking on iTrail Live Tracking platform (see service plans below)
Geo Fence available
Alerts by text or email
Customizable reports
Web based tracking
Mobile viewer for smart devices
Powered by KJB iTrail Live exclusive GPS tracking platform
Subscription plans below: Cancel anytime with no penalties
Easy install makes it perfect for business or personal tracking: fleet, asset, teen, elderly. All plans feature:
Unlimited Data
Receive Alerts
Generate Reports
Most Popular $29.95/month 1 Minute Updates
Plus $34.95/month 30 Second Updates
For more detail go to www.myitrail.com
Get the iTrail Live app for iPhone or Android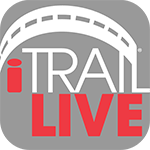 Please Note: Once your tracker has been installed, it may take up to 24 hours for it to connect to Cellular Network and begin reporting.
Also note that this unit does not track outside the US. If service is inactive for 60 days or more, the device may need to be returned for reactivation.
Residual plans available for qualifying re-sellers
Volume discounts available
KJB Security or iTrail does not support the illicit use of GPS tracking devices. This product is offered for the express purpose of securing personal or company property, and ensuring the safety of individuals with their consent.